The Story of Sgt. R.H. Johnson N0:650494
Realising that war was inevitable, I joined the R.A.F in July 1939 when one could pick which service you wanted to join, and the kind of job you wanted to do.
Before I started the armourers course, I was posted to No 2 Flying Training School at Brize Norton. On reporting to thearmourment section I was told to pick up the Lewis gun and pan of ammo and I would be taken to a gun pit on a blister hanger the other side of the aerodrome and to stay there until I was relieved. When I enquired what I was to do, the F/Sgt told me that when an enemy aircraft came over I was to "shoot the bastard down" This I thought was wonderful, to be given the defense of R.A.F Brize Norton after being in the airforce for such a short time eventually passed the armourment course at Pembrey, Sth Wales by more than 60%, thus starting my climb up the promotion ladder from AC2 to AC1.
In January 1940, I was posted to 152 Hyderabad Squadron equipped with Spitfires, stationed at Acklington, not knowing that I would remain with this Sqdn until the end of W.W.II. Due to heavy blizzards at this time, the Sqdn had to revert to using their Gloster Gladiators until the weather improved.
In July 1940 the Sqdn moved to Warmwell, Nr Weymouth for what became known as the Battle of Britain, and I flew there in a Handley Page Harrow, on a pile of full Spitfire ammo boxes.
Throughout the battle the Sqdn was later accredited with accounting for 59 enemy aircraft, sadly for the loss of 14 of our pilots, 7 of whom were never found, and their names appear on the Runneymede Memorial with the other 22,000.
When I flew to Warmwell, it was not the first time. I had flown twice before at Brize Norton. Once in a Hawker Hart and once in an Airspeed Oxford, a twin engined machine which I'd been allowed to take control.
In April 1941 the Sqdn moved to Portreath, Cornwall, and was engaged in Bomber Escort duties, particularly on the two German battleships, Scharvhorst and Gneisenau, anchored at Brest, n/w France.
We then moved to Norfolk in September 1941, where, from Swanton Morley and Cottishal, the Sqdn escorted daylight bombing raids over the continent. For several months now, our Spitfires had been fitted with 30 gal overload tanks permanently secured under the port wing.
In January 1942, the Sqdn was moved to Eglinton, Northern Ireland. The pilots carried out lots of flying and gun firing practice, and at this time I was promoted to Corporal and put in charge of 'A' flight armourers. We were then supposed to move to south England. The order was however cancelled the following day, and we found out much later that our C.O. had been told we were going overseas. After brief stays at Angle, Sth Wales and Wittering, we entrained one night from Stamford and boarded ship on the Clyde in October 1942, on Operation Torch, the landings in North Africa.
The Sqdn meanwhile, became a completely mobile and self contained unit with its own MT, Medical, Stores sectns etc., and was capable of moving at one hours notice, and did so many times over the next three years.
The Pilots dropped of at Gibraltar and picked up new Spitfires MK Vs and flew them to Algiers, where we, the groundcrew landed and spent the night on the beach. The following morning we washed and shaved in the sea, had packed and sealed American rations for breakfast, and marched about 20 miles the Maison Blanche Airfield, which is now Algiers Airport.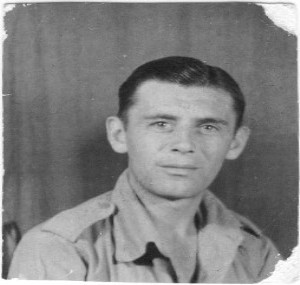 I then, as part of the advance party, flew to Souk-El-Arba airstrip from where our Spitfires were operating, which was about 60 miles s/west of Tunis. Things were distinctly rough here. A number of our pilots has been lost and the airfield was straffed frequently by ME109s and FW190s. A standing air patrol was tried, but the enemy came in higher, shot them down, and others then did the straffing. Heavy rain then bogged our Spits down and the Luftwaffe operated from all weather strips near Tunis. Both the pilots and groundcrew hardly ever for several weeks were in dry clothes or dry tents. These conditions continued until after Christmas. Another piece of misfortune hit us. A lorry full of our fellows was hit on a level crossing. A number were killed and many seriously injured.
At the end of the North African campaign, in April 1943, the pilots flew our Spitfires to Malta. The groundcrew and equipment embarked at Sousse by landing craft for Malta, and joined up with our pilots and aircraft at Ta'Kali Airfield.
I would mention that in North Africa, 152 Sqdn had become the first Spit/Bomber Sqdn on the 19th March 1943, and the armourers had to drill holes in the bombs to take the steadying rods. This work was done at night. The Spits were filled from 4 gal petrol cans through funnels and chamois leather filters. At Souk-El-Arba, this was done in frightful weather, for instance, our C.O. S/Ldr Jackie Sing, recorded in the Sqdn O.R.B, that Christmas 1942 was the worst Christmas he had ever spent. Our Christmas dinner that year was a tin of Irish each, and unless you heated it yourself, you ate it cold.
From Malta, the Sqdn covered the initial stages of Sicilian landings, Operation 'Husky' and in mid July the pilots flew to Sicily and the groundcrew and equipment went by landing craft, landing at Augusta and Syracuse, and meeting up with the pilots and spitfires at Lentini, a few miles south of Mt. Etna. We occasionally saw Gen. Montgomery here, and he very often handed out cigarettes.
On the 27th July, W/Cdr Colin Gray came to our dispersal and informed us that he was leading the wing that morning with 152 Sqdn. He usually flew his own Mk IX Spitfire, but that day he flew one of ours, a Mk V, so 152 Sqdn led the wing of about 36 Spits over the north coast at zero feet - he must have known something, for they hit about 50 JU52 transporters and the same number of ME109 escorts. 152 Sqd accounted for 12. Many were 'flamers' and must have been carrying petrol. I remember F/O Norman Jones, who shot down three whilst flying over Sicily from Malta, shared one JU52 with another pilot and shot down two of the ME109 escorts and chased another 109 round the Lipari Islands and Stromoli, the volcano. Altogether, the Sqdn had twenty victories in the Sicilian campaign.
When the fighting on Sicily ceased we moved to Milazzo, just west of Messina, and began to receive Mk IX Spitfires. With 60 gal long range fuel tanks fitted we flew patrols over the Salerno landings on Italy proper, Operation ''Avelanche'. Sadly at Milers, we lost our 'B' F/T Commander, F/L Mike Drecki, a very popular Polish pilot. He had a tyre burst on take off, with a full 60 gal drop tank fitted, hit a Spitfire of another Sqdn at then end of the runway, and burst into flames.
After very heavy fighting around the Salerno beach-head, the Germans retreated. 152 Sqdn flew in from Sicily and operated from Asa airstrip, adjacent to the landing beach. The groundcrew landed on the beach from landing craft, and for a time lived in tents close by. It was rather noisy for a time, as the Navy was shelling over us and the enemy was returning the compliment. Shortly afterwards, we used a tobacco factory, which had seen heavy fighting, as our sleeping quarters.
By now the Italians has sued for peace as the allies progressed up Italy. One Sunday morning, the advance party of 152 Sqdn moved up by road to Naples. I was one of these. It was a glorious Sunday morning, and as we approached the Bay of Naples, a surprising sight met our gaze. A grey haired, well dressed gentleman, with a newspaper under one arm, and a beautiful female on the other, was strolling along the road as if nothing was happening. This after we had passed the town of Battadaglia, which was raised to the ground. Just as we arrived in Naples however, we were told to board our lorries and go to Gioia-del-Colle, near Taranto, which meant a journey s/east across Italy, over the Apennines, and we were only wearing tropical kit in open lorries. It was bitterly cold.
The Sqdn was then told we were going to Burma with 81 Sqdn. We left our Spits at Gioia, W/Cdr (Dutch) Piet Hugo came to say goodbye, and we sailed from Taranto for Alexandria. Much of our kit was destroyed in an air raid on Bari, when rumour has it, a U.S. ship loaded with poison gas was hit, causing many deaths in the area for a long time. From Alexandria we went by rail in covered trucks, not carriages, to Port Tewfik, on the Suez canal. There, we boarded a ship from Lighters, which pulled alongside. The ship of the Union Castle Line, was one of the first to use the Med from the U.K. up to that time. In the troops onboard, were a number of service females, and as we walked along a companion way, some of the disappeared back into their cabins, as we must have looked a right bunch of brigands, carrying full kit, fully armed, dusty, dirty, and not having shaved for two or three days.
The pilots were meanwhile collecting new Spitfire Mk VIIIs at Cairo and contrary to many versions later, they flew them, as did 81 Sqdn, in stages from Cairo to Calcutta. The groundcrew arrived at Bombay and were freshly kitted out to India command standard, which included pith helmets, which wouldn't last a week where we were going. I had an old khaki battledress tunic, which I had kept from the first days in North Africa. It had been hit in one of the straffing raids at Souk-eol-Arba, and the front had been hit, as well as the belt hanging off. The F/Sgt storekeeper at R.A.F Worli was eventually persuaded to allow me to keep it as a souvenir - sadly, I lost it somewhere along the line.
We travelled by rail across India to Calcutta, a journey of about three days, and joined up with the pilots and Spitfires at R.A.F Baigachi, where, on Boxing Day 1943, the Sqdn shot down its first Jap, a high flying twin engined type, codenamed 'Dinah'. Thus, 152 became one of only two or three to account for enemy aircraft of all three major axis powers, German, Italian and Jap.
In early January 1944, I was sent on a junior N.C.Os course at Secunderabad, where I was billeted in the Summer Palace of the Nizam of Hyderabad, quite a coincidence. The building was empty apart from charpoys - wooden framed beds and rope crisscrossed for a matress. Mosquito nets were hung from the ceiling, and every morning, we would squash the corners, killing scores of bugs that had multiplied overnight.
On returning to the Sqdn, we were moved to the Arakan area, on the east coast of the Bay of Bengal, operating with the 14th Army against the Japs attempting to break through into India. We were quite close to the sea, and one day I went in for a swim. I found that even after walking about two hundred yards, I was only up to my knees, and when I found deeper water I was molested by thousands of minute little objects that pinched me all over, and I mean all over!. One morning, after early shift, I decided to make a call to the 'smallest room', which had a bamboo wall, to afford some privacy. This had a gap of some two feet at ground level. I was sitting there, minding my own business, so to speak, when I spotted a giant monitor lizard walking from the bushes very near to me. Before I could take any action, it disappeared into the jungle, from whence it came.
When the Japs transferred their attacks to the central front and surrounded the Army base at Imphal, our pilots flew the Spits to Palel airstrip and only the necessary groundcrew sufficient to maintain the spits, of which I was one, were flown in by Dakota.
As Imphal was now surrounded, everything, bombs, ammo, food etc was flown in and our rations were reduced to a minimum, foodwise, a small tin of bully and a handful of bicuits (the hard kind) per day was the order. After two or three weeks, I developed Malaria and three or four days in a casualty clearing station closeby, on quinine, which ,made me deaf, I returned to the Sqdn only to be told by the M.O. that I had developed yellow jaundice and was flown out with all the wounded, and then spend several days on a hospital train feeling worse every day, having no treatment. Eventually, after arriving at a base hospital, receiving treatment and proper food, I was finally cleared fit.
The ward I was in was one of the bamboo basha type and the Matron on her daily inspection asked how all her canaries were getting on, as all of us, about 40 were jaundice victims. I was offered sick leave and accepted gladly. When asked where I wanted to go, I replied "Naini-Tal", not knowing where it was. I received a Rly warrant and discovered it was in the Himalayan Foothills north of Delhi, on the other side of India, about two thousand miles away!
After two weeks there, I returned by train, via Calcutta and Dimapur, which meant crossing the Ghanges river by ferry, and another rail journey the other side. From Dimapur was by lorry via Kohima, which had now been cleared, and resembled a W.W.I battlefield. The Sqdn was now at Tuli-hal. On my arrival in September 1944 I found that I had been promoted to Sergeant.
The Sergeants mess at Tuli-hal was a bamboo basha called "The Odd Nog In", and as I was Junior Sgt, I was put in charge of the bar. At this time we only had soft drinks, plus a rum rations occassionaly. We had a Harvard aircraft on the Sqdn which was used for new pilots to aquaint themselves with the airstrips we were using and the sectors. The C.O. was prevailed upon to allow a hooch run to Calcutta, so an Officer and I, the Junior Sgt, flew over the mountains and the Ganges Delta to Calcutta minus 'chutes and anything else that would take up space.
On my arrival back from the first Gin run, I found we had also received a Rum ration. Now, the mess mascot was a white chicken which we called Oscar, after one of the Jap fighters thinking it was a cockerel. Well, Oscar laid an egg, disproving this, so that night there was a celebration with the Gin and Rum!.
By now the Japs were retreating further and 152 Sqdn became the first Sqdn to re-enter Burma, when in October 1944 we moved to Tamu, which meant the groundcrew this time, moved across the mountains on a roughly made road. We spent Christmas at Tamu and as the festive season approached, there seemed little possibility of any Christmas fayre. We therefore approached our C.O., a South African, Major Hoffe, for permission to take a 30cwt truck back north to Imphal where there was a very large lake named Logtak, where we reckoned there should be lots of wildfowl. The Sqdn armoury possessed several 12 bore shotguns for use by pilots to sharpen up their sharp shooting on a clay pigeon trap, but the size eight shot in the cartridge wasn't sufficient for wild geese we expected on the lake.
We discovered that bags of weight used by the parachute packer was considerably larger, about size four, so we removed the size eight and substituted size four. W/O Skevington, the Armt Officer, F/Sgt Nobby Hall Sigs and myself, set off back to Lake Logtak. On arrival at the lake we made camp, erecting our three small bivvies, arranged three dugout canoes with some locals in a lakeside village, and kipped down for the night. Awaking early next day to a bitterly cold morning, we washed and shaved in cold water in canvas buckets. We each boarded one of the dugouts and was paddled through 7-8 ft rushes on to the lake. The water was black, which indicated considerable depth, and we hadn't brought Mae Wests - stupid!
The lake was very large, and there were many floating islands of vegetation on the surface, and there must have been literally thousands of wildfowl of all kinds on the lake, and many could also be seen occupying the floating islands. Immediately we let go our first salvo. Every bird on the lake took to the air and the sound was deafening. Of course, they all make for the far side, and so it was, from one side to the other. All the birds had come down to winter there, and had never seen a gun before. I would never do it again.
We camped again that night, and returned to Tamu and the Sqdn the next day, only to find we had been promised a Christmas diner. We, the Sqdn consumed the wildfowl before Christmas Day, they weren't very tender!. We decorated the mess marquee over Christmas and unusually for that part of the world, had a few days of very heavy rain. The mess marquee was flooded and was a sea of mud. Tents on the domestic site which had been dug to a depth of about two feet for safety reasons, were obviously in the same condition, so when it came to the twelfth night, no-one was very happy. A few of us in the mess that night, suddenly realised the date, a party developed and continued 'til very late indeed, and with the condition of the floor, we were not a pretty sight!
The Sqdn continued to move south to Kan and by mid February were at an airstrip called Sinthe on the west side of the river Irrawaddy, roughly opposite Mandalay, not far from where the 14th Army were hoping to cross. Here, one night approaching Valentines Day, the Japs hit us, destroying several Spits, but much worse, they hit our campsite, killing nine of the lads and injuring thirty who were immediately rushed to base hospital near Calcutta. The nine were buried the next day close by, with full Military Honours. A tragic Valentines Day for some mothers, wives and sweethearts.
About this time, as the Army was crossing the Irrawaddy, a photographer from R.A.F Seac came to 152 and required to be flown over the river to record the crossing. He was therefore flown over the river early that morning in our Harvard. 17 Sqdn who were in the same wing as 152 were flying top cover when they sighted our Harvard very far below. Thinking it was a 'bandit' the promptly dived and shot it down. The pilot, F/O Jackson was knocked unconscious, but only briefly, and he came to, to successfully crash land. He then asked his passenger Harry Ashley to take his photo standing by the crashed Harvard. I have a copy today, but it is not very clear - I must have someone to work on it. Harry for years has boasted about being shot down by a Spitfire and survived. As a matter of fact, many times he has emptied his glass as he's finished the story!
The Sqdn moved further south to Magwe, an airstrip codenamed 'Maida Vale', near the Burma or fields at Yenanyoung and about now in May 1945, the European War finished and I was granted leave, my first, apart from the sick leave twelve months earlier, for almost three years. A party of six of us flew up to Calcutta, where we stayed for a couple of days and enjoyed the flesh pots of Chowringhe, Calcuttas Westend. We tired of this and decided to go by rail to Darjeeling up in the foot hills of the Himalayas, in the area of Mount Kanchenjunga, the third highest mountain in the world. We travelled from Howrah Stn north and changed to narrow gauge and continued by a series of loops and shuntings up to over 7,000 ft into a completely different atmosphere and the most wonderous view you could ever wish to see of the eternal snows of the Himalayas.
On arrival, I asked an Army Officer, the R.T.O. where we could stay. On finding out where we came from, near Mandalay, he wanted to know where our travel warrants were, how we had arrived, etc. Eventually he let us stay in an empty house, overlooking the mountains, which was cleaned every day by one of the locals. We stocked up with gin, ate at a Chinese restaurant, and went horse riding in the surrounding hills and had a fantastic time. We eventually returned to Calcutta, where the monsoon had started, and had to return to Burma from Chittagong, where first we had to go by rail, and then air in ADL3 (Dakota)
The weather over the mountains was atrocious, and after we had caught up with the Sqdn, we made several moves south until we finished up at Toungoo, about 600 miles north of Rangoon.
By now the Japs were in full retreat, and in a very sorry condition, half-starved and suffering from all kinds of illnesses. They were attempting to cross the Salween and Sittang rivers to safety. In Siam, they were being continually staffed by our Spitfires in cooperation with the army. In spite of their condition, it transpired that they continued to fight tenaciously. By now, the monsoon was in really full swing, and the Sqdn's operations continued in absolutely frightful conditions until, suddenly, we were told to stop everything. This was on 15th August, after what we heard later, to be the dropping of the two Atom Bombs.
I stood on the Toungou airstrip in pouring rain, wondering where I was going next, not thinking of home. I found out about two weeks later, after our Spits had taken off to escort a Japanese air party into Rangoon to sign an interim surrender document. They were late in arriving, our Spits had to land short of petrol, and another Sqdn took our place.
We then dropped leaflets on pockets of Japs, telling them what had happened. These were stuffed in the Spits flaps and released by the pilot at the appropriate time. It turned out that Gen McArther didn't want any Allied Forces to enter Jap occupied territory until the surrender document had been signed onboard the U.S.S Missouri in Tokyo Bay, and so it wasn't until the 3rd of September, a day later, that I flew to Bangkok as one of a party of 7152 servicing echelon, to service Spitfires on their way to Saigon.
We lived on Don Maung airfield at Bangkok for two or three weeks, and used a jeep which had been flown in with us, to visit Bangkok City. There was so few R.A.F. there at this time, that three or four of us in a jeep bearing the Union Jack caused quite a stir, and we were thought to be the Royal Air Force. We became aquainted with the Bangkok Police Chief, and supplied him with cigarettes - all legal, I hasten to add. I then flew further east to Saigon and witnessed the laying down of arms, as indication of their unconditional surrender. This also included Field Marshall Count Taraushi, the Commander of the Japanese Southern Army, and witnessed by Lord Louis Mountbatten, who accepted Tarauch's sword, or rather swords. The second, much smaller, was the one used for more personal purposes. Tarauch's aide had to fly to Japan to collect these. Almost immediately, I commenced my return to the U.K. by flying to Calcutta via Bangkok, Rangoon, Mandalay, Chittagong and Calcutta to Bombay.
I signed off India Command at R.A.F Worli, and still have my discharge book. I boarded the French liner Ilke de France, too large for the Suez, so sailed via the Cape, stopping at Durban briefly, and were sung into port by the Lady in White.
I spent Christmas off West Africa, arriving in Southampton early January 1946. From there by train to Hednesford, where I was demobbed. I had in the meantime phoned my father at work, he didn't even know I was in the country. I learned later, that at lunch that day, he said to my mother "I bet you don't know who I've been talking to on the phone this morning?"!
On looking back on my three years overseas with 152 Sqdn, I participated in three seabourne landings in the first, and in the next two, helped to push the Jap from the threshold of India back to where he had started, but by then they were not quite so numerous.
On the debit side, not including the Sqdns pilots, between seventy and eighty of my comrades had been killed or injured.
A final reminiscence
Through the Sqdns travels, we never took part in any Victory Parade or celebration, we always seemed to be moving on somewhere else.
When I arrived at Grantham Station that day in January 1946, and walked into Station Road, there were two taxis parked, their drivers with cigarettes in mouths, just as I'd left it 6 1/2 years earlier to keep my appointment with the R.A.F at Adastra House, Holborn Kingsway, London.
It wasn't until the fiftieth anniversary of V.J. Day, that I took part in a Victory Parade, when I marched down the Mall, past her Majesty the Queen, with the Burma Star Contingent.