John was born at Spondon in November 1920, second son of James Stuart and Suzanne Anderson. His background was somewhat cosmopolitan, as his father was Scottish and his mother French. As a chemist with British Celanese, his father had travelled widely and met his future wife when abroad. After attending Derby School, John was apprenticed to a firm of estate agents, but flying was in his blood, and he enrolled at the town office of the Derby RAF Volunteer Reserve in 1939 whilst still wearing his school uniform!
Johns initial training commenced in late November at No. 4 Initial Training Wing, Bexhill, and was followed by advanced tuition at No. 5 Elementary Flying School Hanworth, No.5 Service Flying School at Sealand, and No. 7 Operational Training Unit Hawarden. His first posting, as a sergeant pilot with an 'average grade' was to 152 (Hyderabad) squadron at RAF Warmwell, in late September 1940, flying spitfires along with SGT. Marsh, P/O. Fox Male, and P/O. Humphries.
The fledgling Derby pilot did not have a happy introduction to his new squadron. He began combat training on October 2nd and, on only his sixth flight , on the 14th of that month, made an unusually heavy landing which damaged the undercarriage. He went round again but on this second, better, landing the damaged undercarriage collapsed resulting in an ignominious slide along the warmwell turf. This 'slight miscalculation' earned him a logbook endorsement from the OC Warmwell, First World War veteran Wing Commander G Howard, DFC.
At the end of the month John was reposted to 234 squadron at St Eval, and was immediately embroiled in further trouble. On his first outing with his unit, a formation practice in spitfire P9508 he took off formatting on his acting flight commander. The take-off run was across the grass from 234 squadron dispersal and straight towards the main runway normal procedure for 234 at the time. At the end of the exercise the two aircraft returned to base, John receiving his leader's signal to land. He broke to the right, seeing the airfield immediately below.
SGT. Pilot Anderson in the cockpit of Spitfire II UM-C , RAF Warmwell late 1940
It was in fact St Merryn, a Fleet Air Arm station sited so close to St Eval as to require the operation of a right-hand circuit instead of the normal left-hand, to reduce the possibility of aerial collision. John made his approach, landing on the grass heading towards the runway, exactly as for take-off. One of many camouflaged concrete anti-glider posts, virtually undetectable from the air, flashed past his wing-tip. He eventually, inevitably, hit one, doing his machine no good at all.
This second incident in nineteen days did nothing to endear him to the powers-that-be, who regarded the event as an example of 'Gross Carelessness' and endorsed his logbook accordingly. John, somewhat naturally, did not agree and felt the proximity of St Merryn could have formed part of all St Eval first pre-flight briefings, but thought it prudent not to argue. He was unfortunate in that his superiors had twice played it strictly by the book.
John in Flying Kit, in front of Spitfire II UM-C , RAF Warmwell late 1940
John was posted back to 152 squadron at the end of November, who were still at Warmwell and served with the unit who now had moved to RAF Portreath. John seeing no enemy aircraft but amassing many flying hours in routine formation drills, practice attacks, dogfights, air tests and air-to-ground firing, with the odd X-raid alarm providing a little diversion. At Portreath coastal patrols and convoy protection was added to the roster, and this remained their main fare throughout the spring and early summer of 1941.
In early July John was posted to 91 Squadron at Hawkinge. His duties here included escorts, 'Jim Crow' patrols, shipping recces, offensive sweeps and the regular low-level reconnaissance 'bus runs' along the French coast eastwards as far as Ostend and south to Fecamp or Dieppe to check for a possible build-up of invasion barges-although the threat of invasion had receded somewhat by this time. Such was his luck that the keen, would-be combat pilot met no enemy aircraft, even when acting as close cover to Air-Sea Rescue launches, Walruses and Lysanders, all of whom were prepared to go right in to the French coast if necessary to recover airmen down in the Channel.
SGT's Anderson & Marsh RAF Porthreath early 1941
A strange event occurred during one of these escort sorties when his companion Sergeant 'Olly' Cooper unaccountably dived into the sea off Dungeness. Cooper was requested by his controller to ascertain the height of the prevailing cloud cover, and it is probable he became disorientated. He was flying a Derbyshire presentation Spitfire, Bolsover 11 R7276 (DL-Z), one of two provided by the patriotic township, a considerable achievement when one considers that their much larger neighbour Chesterfield tried but failed to raise the £5700 to purchase one!
John left 91 Squadron in mid-October, shipping on the Union Castle ex-liner Capetown Castle to Durban, changing to the Nieuw Amsterdam en route to the Middle East. John spent the New Year of 1942 in the oppressive heat of Aden, at 73 Operational Training Unit Sheik Othman ostensibly as a flying instructor. Unintentionally, this OTU had only one aircraft on strength, a single-seat Curtiss 75A Mohawk which was diplomatically shared between the considerable number of pilots based on the unit. John managed a twenty-five minute Mohawk flight, before sailing again, this time aboard the prestigious troopship HMT Mauritania for a journey to Egypt. Here he waited a couple of months at several transit camps around Cairo and the Great Bitter Lake, flying Hurricane Mk I's from Air Firing School Bilbeis, but also enduring a spell of hospitalisation with a case of aggravated infected sinuses.
Once recovered, John was declared fit and able to join 'A' Flight, 33 Squadron on June 29th, 1942 with a grand total of four hundred and twenty-seven flying hours recorded in his logbook. The unit had just received four cannon Hurricane Mk IIC's, fully tropicalised with under-nose Takoradi-pattern Vokes air filters. They were stationed at Landing Ground 154, to the south of Alexandria, when he arrived though they moved fairly frequently as the Desert War ebbed and flowed. He flew sweeps in the main battle area around El Alamein, remaining with the unit for only a short time before a posting back to Spitfires, with 'A' Flight 145 Squadron at LG154. The squadron had only just arrived in the Western Desert and was the first operational Spitfire unit to serve in that theatre. On his very first flight, in Spitfire Mk VB (ZX-L) on August 23rd he suffered a burst tyre on landing and, on his third trip, in (ZX-D) had to leave his formation to force-land when his Merlin gave up the ghost. Hot engine oil mixed with clouds of eye-stinging glycol coolant vapour in the slipstream were inhibiting all forward vision as John nevertheless elected to stay with his machine and, with his cockpit hood locked fully back, brought off a successful dead-stick landing among, as it subsequently transpired, the tents of a detachment of New Zealanders. Their MT section were able to ferry John back across the desert to LG154, arriving before the remainder of 'A' Flight returned from their sweep. It was a fairly comprehensive malfunction as no less than five conrods came adrift and penetrated the crankcase!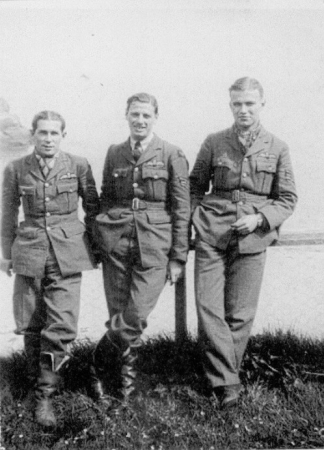 SGTs Bill Rudd, Howard Marsh & John RAF Portreath 1941
John found his spiritual home with 145, he was now a Flight sergeant, a seasoned and competent aviator, carrying out scrambles, patrols and escorts often with 601 then led by Darky Clowes. By late October he had completed five hundred flying hours with-out once confronting the Axis in the air. On October 27th his luck suddenly changed John was flying AB168 (ZX-L), one of nine Spitfires accompanying bombers to El Daba. During the bombing, at around 9.15am, two Messerschmitt 109E's appeared east of the target zone. One of them turned to do battle, carrying out a 'reckless' head-on attack on S/Ldr Matthews the CO, who returned fire. 145's combat reports have not survived but the action can be easily pieced together. The 109 shot over Matthew's fighter and attempted a sharp turn to starboard. The manoeuvre caused it to flick away in a spin as it passed John's aircraft, and he was able to break in pursuit, following the ME down and hitting it with several bursts at four hundred yards range. The 109 went straight in and exploded on impact with the ground. It seems a little hard that after waiting so long for his first kill he had to share with his CO, being credited with one half of a 109E destroyed. On analysis it appears that John's fire was the determining factor in the Messerschmitt's demise.
Nothing more came John's way until the New Year, some ten weeks later. By now he was a Warrant Officer, and the celebrated American Ace Lance Wade was leading the squadron, which was operating from Hamraiet. At 16.10 on the afternoon of January 10th, John was flying EP648, a spitfire Mk V (ZX-H), one of eight returning from an extensive sweep of the land battle area with only nominal fuel remaining. Just as they were approaching base they were ordered to turn around and climb to intercept a Junkers 88 twin-engined bomber from 1(F)/121 on a photo-reconnaissance sortie at twenty-five thousand feet plus-easily visible as it was indiscreetly leaving condensation trails. While still behind and below the Spitfires were spotted by the enemy aircraft which commenced a shallow dive to gain speed. A straight high-speed chase developed with the Junkers losing height rapidly but staying just out of range. Most of eight pursuing Spitfires, now seriously short of fuel, were firing but at extreme range. When almost at ground level the bomber turned abruptly northwards towards the coast. John 'cut the corner' to initiate a beam attack and saw strikes from his 20mm Hispano cannon register in a cluster on the Junker's fuselage near the wing root. By force-landing his fatally damaged aircraft, undercarriage retracted, in an impressive cloud of sand, the enemy pilot was able at least to save his crew. Each pilot received an eighth share in the victory or, as the squadron diary quipped, one JU 11 each!
145's aerial reconnaissance of abandoned Castel Benito airfield, Tripoli, had revealed that the Italians had left their aircraft and installations without inflicting needless damage. Several three-engined Savoia-Marchetti SM.79 bombers appeared to be potentially serviceable and Lance Wade asked John's squadron colleague F/O James Pickering, a spitfire pilot with twin-engined experience ferrying Blenheims, Bostons and Baltimores, to ascertain if one could be taken on charge as a squadron transport. As Eighth Army was advancing rapidly on the town of Tripoli, Pickering and eight ground crew struck directly across the desert with seven day's rations and two vehicles.
On reaching the eerily derelict airfield, ZX markings were soon painted on three reasonable SM.79's and the party camped near the best one, ready to defend it against the ravages of souvenir collectors. One month and two test flights later, F/O Pickering reported to squadron Leader Wade that he and Gremlin HQ were ready for operations. During the ensuing eleven weeks, the Savoia-Marchetti made exactly one hundred and one trips, carrying over four hundred passengers and an immense tonnage of post, spares, stores and rations.
John. in helmet and Mae West, shows off the inscription on presentation Spitfire W3405 (DL - N) Monmouth, Chepstow and forset of Dean. 91 Squadron.
Most flights were between the squadron's various temporary operating bases, (eleven moves in eleven weeks) and out to 145's spitfires in the open desert urgently evacuating from landing grounds under Rommel's too-accurate gunfire. The two-thousand-two-hundred mile round trip to Alexandria to retrieve squadron stores and personal effects was Gremlin HQ's longest sortie under RAF markings, albeit with the port engine's ignition system cutting out whilst flying through a heavy rainstorm on the way back. The flight was completed on two engines, the hot Mediterranean sun restoring serviceability to the third the next day.
John recalls that none of 145's pilots came forward to take over Gremlin HQ after Pickering was 'overseas time expired', so he transferred his ex-Regia Aeronautica bomber to two interested Americans, with handling instructions. They enthusiastically painted American markings over the RAF roundels, alas to little avail. Without the skills of an RAF ground crew and flight engineer to call upon, it was perhaps fortunate they set it on fire whilst trying to start it!
In early March 1943, with the Afrika Korps in constant retreat, the squadron was able to operate from Hazbub airstrip, close behind the Mareth Line. Choosing their moment with care, the Germans were able to shell the airfield from the hills and so threaten 145's future existence indeed, the first shell burst on Hazbub's runway intersection. It was decided to fly off all the serviceable Spitfires without delay, avoiding shell holes. As John climbed away, a glance in his above windscreen mirror reflected a shell bursting on his precise take-off path, near the by-now cratered runway. All aircraft landed at various grounds within Tunisia, John learning that his engine fitter who as usual had been steadying his wingtip as he taxied out, had been killed. Harsh living, the moves from airstrip to airstrip, and frequently atrocious flying conditions contending all the while with heart, blowing sand and dust, desert flies and everyone enduring short rations and a lack of (fresh) water, made the North African campaign uniquely memorable.
John's final claims with 145 came in late March, just before the unit re-equipped with Spitfire Mk IX's. On the 26th he was flying ES252 (ZX-E) sortieing from Bu Grara at 10.15am as part of an eight-plane scramble, with a top cover of Polish Spitfire Mk IX's. At seventeen thousand feet, south of El Hamma. The 145 pilots saw four aircraft two thousand feet above and took them to be the Poles. In fact the Polish aircraft had lost contact, and the fighters were ME 109's. Confident they were protected from above, the eight squadron spitfires dived on eight 109's of JG77 two thousand feet below them, John and two fellow pilots claiming enemy aircraft damaged. During the ensuing dogfight one spitfire was lost, butt Uffz Keinath of 11/JG77, flying white 5, was shot down and wounded. This could well been John's 'damaged claim'.

Two days later, ten spitfires of 145, including four Mark IX's, patrolled the Gabes-Sfax area in mid-morning. Flying ER650 (ZX-G), a VB, John was involved in an attack on some eight ME 109's and two Macchi 202's at twelve thousand feet some twenty-five miles south of Gabes. An MC 202 came at him head-on, he thumbed a burst, cannon and machine guns, as the Italian fighter closed, passed over, and dived away steeply. Pulling round, John chased it down to six thousand feet, firing short bursts until his cannon jammed and he was forced to pull away. As he circled he saw wreckage burning on the ground and a rising pall of black smoke. John was credited with his first single kill, one of five Axis machines claimed in the fierce dogfight. John may well be the only Derbyshire pilot to have destroyed an Italian during the Second World War.
No more combats came John's way whilst he remained with 145, though he recalls once getting a 109 cold in his gunsight, but not firing as he believed his CO had it covered. He was somewhat miffed when Wade later revealed that his windscreen was oiled up and he had never even seen the German! Squadron Leader Wade did ensure that John was commissioned, remarking that it was high time he was an Officer, and casually handing over the thin stripes of a Pilot Officer to sew on to his shoulder straps. By September 1943, after John had left 145, Wade was hoping to fly his 'acquired' Italian light side-by-side low-wing aircraft across the Mediterranean to Cairo on leaving the squadron. However, whilst serving with Air Vice-Marshall Harry Broadhurst as Wing Commander in charge of all Desert Air Force training, this splendid Texan, with twenty-five combat kills, a DSO, a DFC and two bars, was killed on January 12th 1944 at Amendola near Foggia, Southern Italy when his aircraft, reportedly Spitfire VC JK603 on a communications flight, unaccountably rolled to port immediately after take-off and crashed. John remembers him with much respect and genuine affection.

John's last operation in Tunisia was on May 7th, 1943 when he flew close cover to Curtiss P-40 Kittyhawk fighter-bombers in ZX-B. He left his beloved 145 on June 2nd with six hundred and seventy logged hours, on a posting to 71 Operational Training Unit at Ismailia on the Suez Canal. He served on this station for a year, remaining until May 1944, training numerous pilots and mainly flying Hurricanes, Harvards plus the odd Argus and latterly, Spitfires. He left with an 'above average' rating as a fighter pilot instructor from the OC of the station.
John move 500 miles westward on May 15th to join 'A'Flight, 94 Squadron based at LG147 Bu Amoud, southeast of Tobruk. By this time 94 was an all Spitfire squadron, with a mixture of V's and the new IX's. His first sortie, a sector recce, was flown on May 17th, followed by a flight test of GO-B's long range slipper fuel tank installation, and a scramble flying of GO-N a week later.
Between April and August 1944, the squadron operated on 26 occasions over Crete on sweeps and as bomber escorts. Four Me 109G fighters were destroyed, two to Flt Lt McLachlan, one to Flt Lt Roger Howley and one to Lt Cmdr D Stanic, senior officer of 94's Yugoslav Flight. During the July 8th sortie, John was number two to 'Mac' McLachlan, escorting Martin Baltimores to bomb Maleme. He followed his leader after a pair of ME 109's, closing on one in an ever-tightening turn. John managed to fire but the excessive elevator and top rudder needed initiated an aerodynamic shudder, preventing him giving sufficient deflection and his burst missed the quarry.
By now, 94 needed to be based as close as possible to Crete, whilst remaining in North Africa. On July 14th the squadron moved the 150 miles from Bu Amoud to Savoia, due west of Derna, in 55 minutes flying time.
F/LT. Anderson, RAF Ismailia in 1943
94's superb Spitfire IX's, well liked because of their up rated, two-speed supercharged Merlin 61's were flown away at the end of August, leaving the unit equipped solely with Spitfire V's. These were soon to be fitted with underwing racks for 250lb bombs, enabling dive bombing techniques to be practised in preparation for the Oct 19th move to Greece. It was on this squadron move while airborne over the western tip of Crete that John's I.F.F. equipment (Identification, Friend or Foe) self destructed for no reason. Intended to be detonated via a switch near the undercarriage selector lever in the event of a crash or forced landing – to deny an enemy access to the then secret radar recognition apparatus – John found the loud report and acrid smoke from the radio compartment five feet behind his head considerably disconcerting. John in (GO-H) for two-hour morning formation flight of sixteen Spitfires, led by 94's CO S/Ldr Russ Foskett, DFC from Savoia to Kalamaki near Athens, remembers the rapturous welcome accorded the RAF squadron.
Events were marred somewhat for 94 squadron arriving at Kalamaki airfield on that October day. Sgt O'Keefe, impatient to land his Spitfire JG839, touched down before Lt 'Dickie' Dummett's aircraft had cleared the runway. An unforgivable collision occurred as O'Keefe's aircraft ploughed into the unfortunate South African's Spitfire, and both aircraft caught fire, rapidly developing into an inferno. Sgt O'Keefe managed to extricate himself from his cockpit but Lt Dummett perished. No firefighting appliances were immediately available, the heat and exploding ammunition serving to thwart all personnel's efforts to rescue him. Dust clouds thrown up as aircraft passed over rubble-filled demolition holes left by German saboteurs may have contributed to the appalling accident.
Kalamaki airfield now became the scene of considerable fighter activity, 94 flying recces for the mounting of strafing and bombing attacks on retreating German road and rail transport at every opportunity. Four days after their arrival, on October 23rd, two sections of 94 took off at 13.25 for low-level check on airfields in the Larissa area. Wing Commander Patrick Woodruff, DFC led in BR253 (GO-D) with W/O Bill Dorman flying ER501 (GO-A) John was flying ER867 (GO-S) led the other secion, with F/O J G 'Jock' Maxwell flying JL365 as his number two. The Salonika airfields were found unoccupied, a wide circle enabled the sections to approach Gorgopi airfield from the north. Directly ahead, two Heinkel 111 bombers were sighted on the ground. Each section strafed one a piece and both were set on fire. Accurate, light flak hit JL365 which went into a climb, banked right over John's Spitfire and crashed in flames on the airfield, F/O Maxwell losing his life. Within minutes, Woodruff located a long train in steam, stationary beneath a mountainside awaiting a 'line clear' signal. The three remaining Spitfires attacked, Woodruff and John blasting the locomotive and Dorman raking the carriages and wagons responsible for the inevitable flak. Another train received similar treatment on the way home and Volos harbour was reconnoitred, Kalamaki being regained at 16.10.
A week later, on October 31st , 94 CO, Squadron Leader Russ Foskett, DFC experienced engine trouble over the Aegean after strafing trains near Prokhama, compelling him to bale out. John, piloting (GO-S), participated in the air-sea rescue for him, which was only abandoned when an aircraft carrier signlled that the CO's body had been retrieved.
Squadron Leader Hugh 'Mac' McLachlan DFC briefly led 94 until his repatriation to Canada, Squadron Leader Jack Slade DFC assuming command on November 29th . 94 were now repeatedly aloft for more than three hours on train-strafing sorties to Gorgopi, Veles and Skopje, harassing the German withdrawal. Locomotives in steam were prime targets of opportunity, as John's 20mm cannon could reliably rend a boiler apart. The wholesale escape of live steam compressed to two hundred pounds per square inch was a virtual explosion, and a rising plume could-and on occasion did –uncontrollably lift and roll the overflying fighter.
Experience suggested the best procedure was to bank into a turn to avoid the steam towards the source of any flak, so as not to present a plan view of the aircraft to the gunners. General Lohr had withdrawn his Webrmacht Gr.E northwards with all possible speed, as there was a real danger of becoming isolated from Germany, and Greece was free of German forces by November 2nd. Lohr's progress was being considerably facilitated by an alliance with ELAS, the communist Greek National Peoples Liberation Army, in return for heavy ordnance and Webrmscht equipment. Hitherto, ELAS personnel had constituted much of the Greek anti-German underground.
By mid-month the Germans were beyond the range of 94's Spitfires, and Crete once again became the focus of attention. John flew recces over the island with F/O David Jackson on November 21st and, refuelling at Heraklion, on November 27th . After leading two sections of 94 on two bombing sorties, both on December 5th, bombing-up at Heraklion to attack an ammunition dump at Alikianov at lunchtime, returning to Kalamaki by 16.30, John's attention reverted to nearby Athens.
A civil war erupted in the capital on December 4th between the ELAS communists and partisans loyal to King George II of the Hellenes, who had returned in October with his government to Athens from exile in England. This involved 94 squadron in close support of the British Army as it fought ELAS activity in and around the city. An absence of aerial opposition and minimal flak allowed John and his colleagues to accurately mark individual ELAS-held buildings with cannon fire, twin-engined Beaufighters following in with their rocket projectiles to complete matters. Driven street-by-street from the city by the end of December, ELAS comandeered every form of vehicle for their escape but were continually harassed by 94's Spitfires. Civilian Greek hostages were ill-treated, many being shot and their bodies mutilated. The squadron lost one pilot, Sgt R.J. Andrews, who hit trees while attacking ELAS motorised transport and crashed.
RAF Air Headquarters Greece, headed by AOC Air Commodore Geoffrey Tuttle DFC, had been established somewhat vulnerably at Kifisia, ten miles north-east of Athens. ELAS forces attacked it and met with a spirited defence put up by RAF personnel. Taking off at 10.35am on December 18th in ER222 (GO-F) with F/O Dan Tolkowsky in MH590 (GO-B), John successfully strafed the ELAS troops attacking AHQ, and several surrendered to the Amry. Later in the day a Halifax of 148 Squadron dropped supplies to the beleagured headquarters. Some canisters fell short and, to prevent ammunition falling into enemy hands John, flying EP406 (GO-H), W/O Bill Dorman and F/O David Jackson destroyed them with cannon fire. ELAS forces nevertheless succeeded in overrunning the Headquarters during the following day.
The communists took many prisoners who were force-marched, in appalling weather, shadowed at every opportunity by 94's Spitfires. ELAS troops relieved prisoners of their RAF greatcoats and footwear, and surviving the forty-mile forced marches called for considerable endurance. Villages en route organised surreptitious gifts of food to the prisoners, augmenting their below-subsistence diet. Food and medical supplies dropped by Wellingtons of 221 Squadron were, in the event allowed to be kept by ELAS in view of their troop's growing conviction that the attempted coup d'etat was due to fail. Their diminishing morale resulted in their accepting cease-fire terms, effective from January 15th , 1945, but searches for RAF prisoners of war continued until the end of the month. As late as January 23rd , recces were being flown by 94 to shadow ELAS concentrations and prisoner's movements, John flying EP576 (GO-A) on a two-hour twenty-minute sortie with Dan Tolkowsky as his number two to Trikkala, Volos, and Lazarina where around one hundred RAF prisoners were observed.
In the six weeks it took to defeat the ELAS communist civil war, the British Army had suffered more than two thousand casualties. 94 Squadron received a batch of the more powerful Spitfire MK IX's again upon moving to Sedes near Salonika, on February 14th. Surveillance sorties were flown in support of British Army columns disarming the remaining ELAS troop outposts, with reconnaissance flights over Thrace and Florina. As things were noticeably quitening, John used an unarmed Fairchild 24W Argus high-wing communications monoplane HB586, on a two and a half hour recce flight with Flt Lt R R 'Barney' Barnfather to Xanthe on the 19th, and to the west of Mount Olympus on the 23rd. Used mainly to fly Army officers –'brown jobs' – up country, John found the squadron's Argus and an Auster, RT623, to be ideal 'air observation posts' for the new situation, and extended the Mount Olympus area reconnaissance the next day.
Just before leaving 94, John was entrusted with conducting a court of inquiry into the death of Wing Commander Patrick Woodruff DFC, i/c (Flying) 337 Wing. Leading a formation of Greek Air Force Spitfires on a demonstration flight over Salonika on Feb 27th in rough flying weather, one of the Greek aircraft from 336 Squadron struck Woodruff's Spitfire whilst changing station, severing the fighter's entire tail unit and causing it to plummet into the sea.
In March 1945 John was posted 'off to Jugland' as Flight Leiutenant to command 'A' Flight, 253 Squadron, latterly based at Prkos on the eastern shore of the Adriatic, strafing and bombing German units on the retreat from the Balkans. His last operational flight was in Spitfire IX (SW-F) on a sweep. The one and a half hour sortie brought his total service flying hours to fifty five minutes over the neat round figure of one thousand. The unit was withdrawn frm ops in early May and John Anderson returned to England after almost three and a half years abroad, departing Naples on the 29th aboard HMS Tamoroa which, from Gibraltar homeward to Liverpool, formed part of the last merchant ship convoy of the Second World War.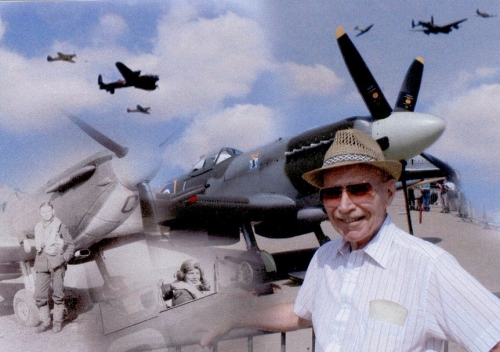 He ended his RAF service with a month at HQ 12 Group, Fighter Command, Watnall near Nottingham and a four month attachment to HQ Fighter Command, Stanmore Park on aircraft accident investigation, with visits to RAE Farnborough but only one more hour's flying. Thirty minutes solo-on-type in a Proctor on Sept 3rd and a final half hour on Oct 11th in one of his Spitfires flying a 'local' from Heston – forever associated with Neville Chamberlain's three fateful flights by Lockheed 10A Electra to confer with Herr Hitler at Godesberg and Munich eight Septembers before.
John returned to civilian life in Jan 1946, marrying Doris Taylor from Alvaston the following summer. Burnaston was once againaccessible, and, as it was now operating as No. 16 RFTS, John fitted in a refresher course on the School's DH82A Tiger Moths, with comparatively placid cross-country flights to Wolverhampton, Brough and Sywell. John and Doris had two daughters, both now married and with families. He joined the Purchasing Dept. of Rolls Royce Ltd. Until his retirement.
F/O. Tony Tooth, John, & SGT Ray Johnson (152 Sqn) Duxford 02.09.06
Like so many fighter pilots of the war years, John regards himself as a man who simply did a job. His record of one-and-five-eigths kills, plus one damaged, hardly ranks him as one of our top-scoring pilots, but air-to-air victories are not the only measure of success, especially in the later stages of the war when the role of fighters was increasingly concentrated on ground attack and close support of land forces, and he takes just pride in the part he played in these operations. His medals include the Air Efficiency Award, instituted to reward 'lengthy and valuable' service in the Auxiliary and Volunteer Air Forces of the Empire. The qualifications 'long and meritorious service 'describes John's contribution to the eventual Allied victory exactly.
| | | | | | |
| --- | --- | --- | --- | --- | --- |
| Date | Sqdn | Locality | Aircraft Flown | Enemy Type | Claim |
| | | | | | |
| --- | --- | --- | --- | --- | --- |
| 27.10.42 | 145 | Daba | Spitfire V ZX-L | Messerschmitt 109E | Destroyed (1/2 share) |
| | | | | | |
| --- | --- | --- | --- | --- | --- |
| 10.01.43 | 145 | Hamraiet | Spitfire V ZX-H | Junkers 88 | Destroyed (1/8 share) |
| | | | | | |
| --- | --- | --- | --- | --- | --- |
| 26.03.43 | 145 | S of El Hamma | Spitfire V ZX-E | Messerschmitt 109F | Damaged |
| | | | | | |
| --- | --- | --- | --- | --- | --- |
| 29.03.43 | 145 | S of Gabes | Spitfire V ZX-G | Macchi C202 | Destroyed |
At Home with John 22.06.10
Many Thanks to F/LT John Anderson
Short video of John recalling his RAF service history