Australians in the Battle of Britain.
By Kristen Alexander
Latham Carr Withall was born in Toodyay, on the north-eastern edge of Perth in Western Australia on 11 May 1911. By October 1915 the family was living in Geelong, Victoria and later moved to Melbourne. Carr's eyes had turned skyward from an earlyage and, while still at primary school, he was awarded a Gould League bird lovers certificate. While many young boys dreamed of looping the loop in a powered aircraft, Carr became fascinated by gliding and, in 1929, joined the newly formed Melbourne Gliding Club. After leaving Scotch College, Melbourne in 1927 with his Leaving Certificate he joined the State Bank of Victoria. He soon discovered an affinity for gliding and was known as one of Victoria's pioneering gliders. He was recognised as a good pilot and gifted instructor. Most of the club's leading pilots were his protégés and the high standard of gliding in Melbourne was attributed to him. In July 1935 he resigned from the club to travel to England with his parents. He joined the RAF on a short service commission in October 1936. After training he was posted to 19 Squadron at Duxford in Cambridgeshire on 7 August 1937. He was recognised as a good pilot and was popular. Because he was older than some of the other pilots fresh
out of training school he was nicknamed 'Granny', and the younger ones would teasingly offer to carry his parachute around for him in deference to his great age. He became great friends with James Coward who recalled that the Australian was 'very madly keen to fly' and was so proficient at handling the fighter aircraft that at onepoint he flew solo during an air display at Hendon. Carr was promoted to flying officer in April 1939 and acting flight lieutenant on 31 May. At the outbreak of war he was in charge of A Flight and, like his confrères, was well conversant with the Spitfire, so much so that within the month he was posted as a flight commander to the newly reforming 152Squadron. There he gained a new nickname. He was called 'Elsie', from his initials L.C.
12 August 1940 was the day the Germans decided to try and knock out the radar stations between the Thames Estuary and Portsmouth, as well as launch raids on forward airfields in preparation for Adlerangriff. Just after midday, while patrolling over Catherine's Point, 152 Squadron encountered a large enemy force south of the Isle of Wight. The e/a had already struck at the Ventnor radar station. The odds wereoverwhelming but 152 acquitted themselves well. Sadly, two of their men failed to return, 22 year-old Pilot Officer Douglas Clayton Shepley and 29 year-old Flight Lieutenant Latham Carr Withall. He was the fourth Australian entitled to the Clasp to lose his life in the Battle of Britain. He had married in January 1940 and his twin sons were born six weeks later on 25 September. He was shot down in Spitfire P9456 and is remembered on the Runnymede Memorial, Panel 5. He was 29 years old.
Ian Norman Bayles was born in Melbourne on 13 August 1918. His father, Norman, was a prominent solicitor who served as the representative of Toorak in the Victorian Legislative Assembly for fourteen years, retiring in 1920. Bayles senior was a great traveller abroad and claimed to have covered 300,000 miles in a decade. His excuse for his international roving was his son's education at Winchester College. After a brief return trip to Australia in 1937, Ian decided to read law at Oxford, planning to eventually practise in Melbourne. He went up to Oxford in 1938 and, like Richard Hillary, was a member of Trinity College. Ian joined the Oxford University Air Squadron on 19 October 1938, soon after commencing his studies. He would have a good career with 152 Squadron and a good war. He was awarded a DFC on 12 October 1945.
Ken Holland received orders to go to 152 squadron at Warmwell on 17 August. He arrived there late atnight and, on reporting to the orderly office, found that there was 'nothing doing'. Hemet a friend in Weymouth and stayed there overnight. It seems as if the 'nothing doing' extended to the 18th as, after breakfast at his hotel, he was off for a swim, then lunch and tea out. 'Back late and slept at the Albany'. He returned to Warmwell on 19 August where he was introduced to Squadron Leader Peter Devitt, the Commanding Officer of 152 Squadron. He was initially allocated to A Flight but later that day changed to B Flight. It was a grand day for the 20 year old Australian.
On 25 September 1940 the Luftwaffe's Kampfgruppe 55 (KG55), along with escorts, attacked the Bristol Aero Company's works. This was the first time the Luftwaffe had sent so large a force to attack an inland target. 152 Squadron was one of the squadrons sent to intercept. Rather than flying in sections of three, the squadron was broken into six sections of two. Ken Holland, in Spitfire N3173, was Blue Two, flying with Squadron Leader Devitt. The individual sections were not able to form up in the air and so could not operate as a unit; they operated independently. Devitt at least led Blue and Green sections.
Just before 11.30 a.m. Devitt led Ken and Green Section to intercept the enemy aircraft which were at that time over Warmwell aerodrome. He ordered them to climb as he surmised the enemy aircraft would be heading towards Bristol. Then control advised that the 'bandits' were 15 miles north of Yeovil at 15,000 feet so he then ordered the climb in this direction. When they were over Bath he saw 100 plus enemy aircraft making a wide sweep with about 50 fighters astern and above. He advised control of this and remained in the sun. The enemy bombers then turned due south and were approaching Devitt and B Flight. He ordered a number one attack and led the attack from above. It was an aggressive engagement, with roiling dogfights. After dropping his incendiary, Devitt saw no more as he was blinded when his petrol tank was hit. He did not see that Blue Two, Ken Holland, was killed. Ken's fellow Australian, Ian Bayles, Black One, however, saw Ken's Spitfire crash.
Shortly afterwards, Flight Lieutenant Hudson investigated and reported that:
'Sergeant Holland came up at great speed, circled once to identify his quarry and opened fire at approx 400 yards from the rear and slightly to the port side. His first burst apparently took effect for the [Heinkel] He 111 rapidly began to lose height and circled as if looking for a landing. Sergeant Holland turned quickly and got in a second burst, turned again and at 2000 feet came up on the enemy's tail. This was his only mistake and was fatal as the rear gunner had not been silenced and was able to get in one burst at short range. This burst was fatal and the machine of Sergeant Holland dropped his nose and crashed.'
A witness to the battle saw the Heinkel and Ken's Spitfire plummet. The wreckage was strewn across the fields of Church Farm Woolverton, a village about four miles north of Frome, in Somerset. Heinkel and Spitfire were less than 500 yards apart. The witness recalled that :'the Spitfire broke its back as it crashed. I sent the gardener out to see if the pilot was all right—nothing could be done for him—he had been shot right through the head.'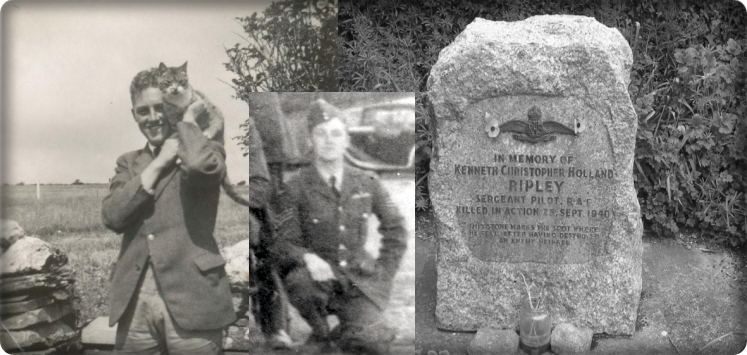 Kenneth Christopher Holland was only 20 years old. He was the youngest Australian to die in the Battle of Britain. Since his first combat he had made a conscious effort to improve his combat technique, thus increasing his success rate. But during this last action he had forgotten one of the fundamentals taught by the instructors (veterans of the Battle of France) at 5 Operational Training Unit Aston Down: Never follow an enemy aircraft down after hitting it because of the likelihood of an attack from the rear. Rather, strike and get out fast. He had also forgotten the lesson he learned a few days earlier: rear gunner, first then engine. Forgetting these important lessons resulted in Ken's death. And the second attack was not even necessary: Flight Lieutenant Hudson later discovered from Hauptmann Brandt, the pilot of the downed Heinkel that 'Sergeant Holland's first burst had, in point of fact, been sufficient to put his machine completely out of action'. Small consolation, but Ken was credited with bringing down Brandt's Heinkel.
Kenneth Christopher Holland, known as Ken, was born on 29 January 1920. Fairskinned with sun-tipped blond wavy hair and good looking in a fresh-faced way, he had grown up in the coastal suburbs of Sydney, ranging around the Bondi area like any other growing boy, taking pot-shots at rats with his air rifle and perhaps evencontributing the results of his fishing expeditions to the family table.
He entered Randwick Intermediate High School in 1933. After three years he gained his Intermediate Certificate with passes in English, History, Latin and French, but failed Mathematics. He was a keen and strong swimmer and in October 1935 joined the Tamarama Surf Life Savings Club as a junior member. As soon as he turned 16 hebegan working towards his surf bronze medallion.
Ken's guardian, Major Hugh Ivor Emmott Ripley known as Toby was devastated at Ken's death. He had Ken's body cremated and kept the ashesin a small urn. Ken's bedroom at Melorne, the house in which they lived at Camelford, was kept unchanged since Ken's last visit. Toby erected a stone monument at the place where Ken's Spitfire crashed. He also placed a memorial in the church in which Kenwas baptised at Tintagel. Although he had not formally adopted Ken, he acknowledged an adoption on the Tintagel memorial—a statue of St Christopher, patron saint of travellers—and gave his young ward the courtesy of his name on both memorials.
But Toby was not the only one who grieved Ken's death. Back in Sydney, his parents, Ina and Harold Holland, who had not seen him for almost four years also grieved. On 5 October 1940, a small notice appeared in the Sydney Morning Herald's Roll of Honour:
'September 25, 1940, killed in action. Sgt-Pilot Ken C Holland RAF, only son of Mr and Mrs H G Holland of 11 King Street Bondi.'
Researched and written by Kristen Alexander
Kristen is looking for family of former squadron members with any further information about Ken Holland lurking in wartime letters or photo albums, to get in touch.
Please checkout Kristen New book (Out Soon)
http://www.barrallierbooks.com/site/australian_eagles
And why not visit her great Blog
http://australiansinthebattleofbritain.blogspot.com.au/